Online Repair Quote By Make

Tyres Wickersley
Wickersley is a civil parish and hamlet in the Metropolitan Borough of Rotherham in South Yorkshire, 3 miles from the town centre. The region is relatively close to A1(M), M18, and M1 road junctions, passing through Rotherham and Bramley.
Is your vehicle's MOT due?
Come over to us at 9A Glasshouse Rd, Rotherham, S64 5TQ. We are just 10 minutes away from you, a 5.1-mile drive via the B6093 and B6090 route.
MOT Wickersley
To be lawfully driven on UK roads after three years of registration, all automobiles in the UK must pass yearly MOT inspections and get a VT20 certificate.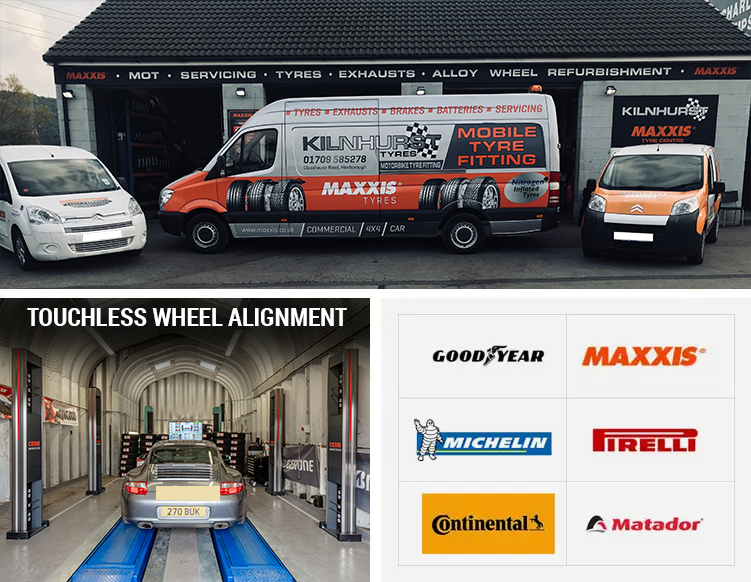 Certificates
We issue DVSA-affiliated MOT certificates for all Class 4 vehicles:
VT20: Vehicle passes MOT tests with negligible issues.
VT30: Vehicle fails MOT check due to severe issues.
Components
We conduct MOTs on the following vehicle parts:
Exhaust and Emissions
Tyres and Wheels
Light
Mirrors
Number plates
Seat belts
Body structure
Suspension and Steering
to mention only a few.
Tyres Wickersley
We are proud of our collection of EU-rated car-specific and seasonal tyres. Browse our extensive selection of tyres, which includes:
Summer-, winter- all-season, 4x4, Performance, and Run-flats from renowned brands like Michelin, Bridgestone, Dunlop, Pirelli, Continental Event, Maxxis, Pirelli,Toyo and more.
Here you can find tyres for every budget!
Mobile Tyre Fitting Wickersley
When you purchase tyres, you can select the 'mobile tyre-fitting' option, and we will have the tyres installed on your vehicle at a location of your preference.
Car Servicing Wickersley
Enjoy cost-effective and top-quality car services like:
Interim servicing needs to be done every 6,000 miles of driving, or twice a year.
Full servicing should be done every 12,000 miles of driving, or once a year.
Additionally, we undertake other services like:
DPF cleaning
Wheel balancing
Battery services
Summer servicing
Winter Servicing
Exhaust services
And many, many more!
Wheel Alignment Wickersley
We use the Supertracker wheel alignment technology to determine the area of misalignment before appropriately correcting the axle's shape. Correctly aligned wheels will provide a smooth ride and maintain your car's mileage for a long time.
Connect With Us
So stop looking for 'car services near me' and contact us today!
To book an appointment or for more details, use the facilities on our website, call us on 01709 585278, send us an e-mail at enquiries@kilnhursttyres.co.uk or simply come to see us.
We are always ready to help.
Opening Times
Monday

08:00 - 17:00

Tuesday

08:00 - 17:00

Wednesday

08:00 - 17:00

Thursday

08:00 - 17:00

Friday

08:00 - 17:00

Saturday

08:00 - 12:00

Sunday

closed - closed