Online Repair Quote By Make

Tyres Swinton
Do you regularly drive across Swinton, a town in the city of Salford in Greater Manchester?
Then look no further than Kilnhurst Tyres for vehicular assistance. We are located at 9A Glasshouse Rd, Rotherham, S64 5TQ, which is only 1.8 miles via Fitzwilliam St and Highthorn Rd and a 5 minutes drive away.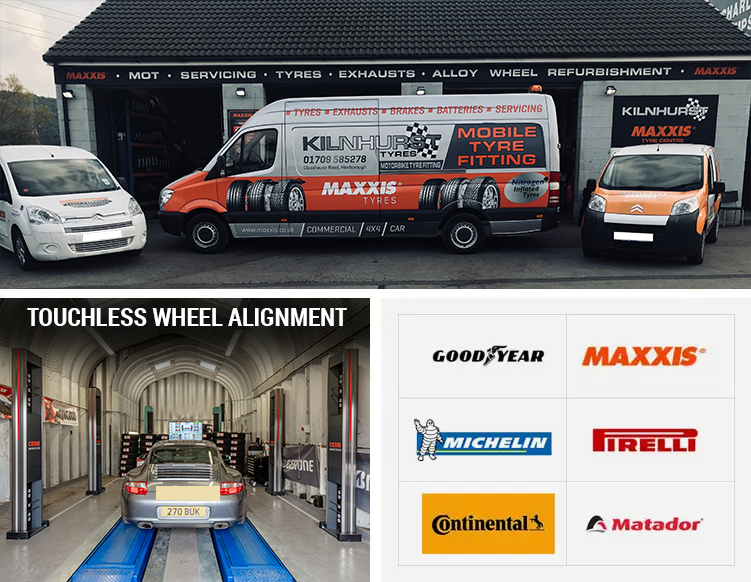 Car Servicing Swinton
Reach our facility for affordable car service. Our technicians are adept at using technologically advanced tools to offer reliable and efficient services. We offer the following types of car servicing for all car makes and models:
Full Car Servicing
Interim Car Servicing
Wheel Alignment Swinton
Are you on a busy schedule but need to get your car's wheel aligned immediately?
Then you can opt for our touchless wheel alignment service. We employ the clampless Argos wheel alignment system by Supertracker. This innovative technology allows for collecting readings and adjusting the axle geometry with utmost precision and accuracy in the least possible time.
So, put an end to your 'wheel alignment services near me' searches and visit us today.
MOT
Is your vehicle already 3 years old?
Then it is time to opt for an MOT.
We are a DVSA-certified service centre offering MOT Swinton for Class 4 vehicles at affordable rates. At our facility, our team of MOT engineers inspect all crucial car components and based on the vehicle's performance, they will offer the following certificates.
VT20: Our team offer this certificate if your car has passed the MOT test successfully.
VT30: If your car fails the test, experts will offer this certificate with a list of all the faults and degrees of dangers associated with them.
Further, we also offer DPF cleaning services at reasonable rates.
Tyres Swinton
We stock models in multiple sizes and variants to meet all the requirements efficiently in our inventory.
The best part is that you have the option of buying these products from the comfort of your home using the tyre finder tool on our website. Further, you can opt for mobile tyre fitting Swinton and get the tyres installed at your preferred location.
For more information kindly call us on 01709 585278. Our team will get back to you on business days.
Opening Times
Monday

08:00 - 17:00

Tuesday

08:00 - 17:00

Wednesday

08:00 - 17:00

Thursday

08:00 - 17:00

Friday

08:00 - 17:00

Saturday

08:00 - 12:00

Sunday

closed - closed