Online Repair Quote By Make

Tyres Sprotbrough
Are you looking for an authorised garage for your 3-year-old Audi's MOT inspection?
You can come down to Kilnhurst Tyres for a professional service. We are a DVSA-approved garage providing MOT Sprotbrough for Class 4 vehicles only. You can reach our facility at 9A Glasshouse Rd, Rotherham, S64 5TQ, or book us online.
Our MOT engineers will inspect your vehicle's crucial components like exhaust, suspension, brake, tyres, wheels, etc. Based on their functionality, we assess your car's roadworthiness and certify it accordingly.
Want to know more about our offerings? Keep scrolling!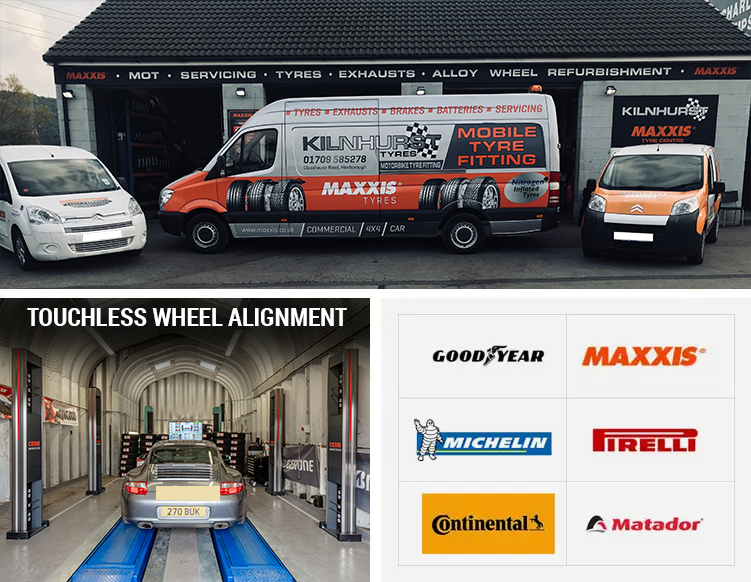 Know Our Services
We offer a list of car services for an uncompromised driving experience to all our clients. Our best-rated services include the following:
Wheel Balancing
Do you know unbalanced car wheels can jeopardise your on-road safety and lead to severe mishaps?
At Kilnhurst Tyres, we offer professional wheel balancing Sprotbrough to ensure your vehicle's stability. Our technicians dismount the damaged wheels and mount them on an advanced wheel balancer. We spin the wheels at high speed to detect the actual point of imbalance. Finally, we add counterweights to restore the wheel balance as per the manufacturer's recommendations.
Wheel Alignment
You can reach us for the latest touchless wheel alignment Sprotbrough developed by Supertracker. We use the clampless Argos technology to restore the camber, caster, and toe positions of your car's wheel as per OEM specifications.
Additional Services
Exhaust Repair And Replacement
Tyre Pressure Check
DPF Cleaning
Hydrocarbon Cleaning, etc.
Got a reliable solution to your "car services near me" searches? Now check out our product range!
Products We Stock
We retail tyres Sprotbrough across major variants like summer, winter, all-season, 4x4, run-flat, and performance tyres. Our inventory is housed with a massive stock of world-class tyre brands as follows:
Bridgestone
Michelin
Continental
Goodyear
Pirelli
Nexen
Roadstone, etc.
Don't want to stand in long queues while buying tyres?
Book tyres online from our website and get them delivered to your place. You can also book our mobile tyre fitting Sprotbrough along with the tyres and get hassle-free installation at your location.
Seems convenient? Then call us on 01709 585278 for quotes and queries!
Opening Times
Monday

08:00 - 17:00

Tuesday

08:00 - 17:00

Wednesday

08:00 - 17:00

Thursday

08:00 - 17:00

Friday

08:00 - 17:00

Saturday

08:00 - 12:00

Sunday

closed - closed