Online Repair Quote By Make

Tyres Scholes
Scholes is a small hamlet near Cleckheaton, West Yorkshire. Scholes is situated near the Leeds Outer Ring Road, the A64 and the M1.
Are you a resident of Scholes looking for top-grade tyres Scholes?
Then, you are on the right page!
Kilnhurst Tyres offers you a wide range of tyres for all makes and models as per your requirement and complies with the EU tyre rating regulations.
We are the perfect answer to your 'tyres near me' searches.
Want to buy tyres from us?
Visit our workshop or place an order online to avoid long queues.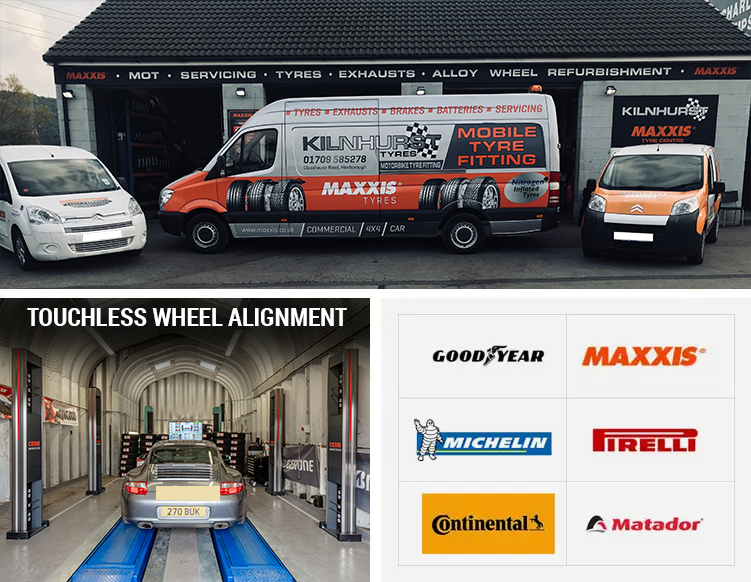 Check Out Our Product Range
Our workshop is facilitated by most of the leading brands in the tyre manufacturing industry. At Kilnhurst Tyres you can compare and buy online from an extensive collection of superior quality tyres from brands like:
Continental
Maxxis, and many more.
However, when you make an online purchase choose our mobile tyre fitting Scholes. After choosing this service, our expert will reach your preferred location in the shortest time possible. We will mount the new tyres and remove the old ones. Our experts will also perform the necessary safety checks and take care of the old tyres.
Take A Look At Our Services
Moreover, you can avail of our affordable vehicular services. Our technicians are experienced in providing efficient repair and replacement solutions.
Wheel Alignment Scholes
Are you noticing premature wear on your car tyres?
It can be a tell-tale of wheel misalignment. Our experts use the latest Argos touchless wheel aligner, which inspects the caster, camber, toe and thrust angles within just a few minutes. This enables our experts to re-align the wheel angles of your car to their manufacturer-recommended settings.
DPF Cleaning
Car owners should opt for an ideal DPF cleaning to ensure maximum performance. So for a prompt solution make sure to visit us at 9A Glasshouse Rd, Rotherham, S64 5TQ. We are only 7.1 miles away from your location. You can reach us in just about 20 minutes.
MOT
We specialise in offering MOT Scholes for Class 4 vehicles. Our in-house MOT testers determine your car's roadworthiness and issue either VT20 (Pass) or VT30 (Fail) certificate based on the results.
Further, we also provide efficient car servicing Scholes at affordable rates. Get in touch with us to know more about the same.
Kindly call us on 01709 585278 for more queries.
Opening Times
Monday

08:00 - 17:00

Tuesday

08:00 - 17:00

Wednesday

08:00 - 17:00

Thursday

08:00 - 17:00

Friday

08:00 - 17:00

Saturday

08:00 - 12:00

Sunday

closed - closed