Online Repair Quote By Make

Tyres Rossington
A civil parish, Rossington is located in the Metropolitan Borough of Doncaster in South Yorkshire. Car owners of this area can now rely on a reputed garage for their car service Rossington and tyre requirements. Kilnhurst Tyres is a renowned name with over 30 years of expertise in the industry.
From DPF cleaning to exhaust services, our facility can be your go-to destination.
Want to visit us?
Drive via A630 to reach our workshop at Kilnhurst Tyres, 9A Glasshouse Rd, Rotherham, S64 5TQ. It will take just about 30n minutes to reach us.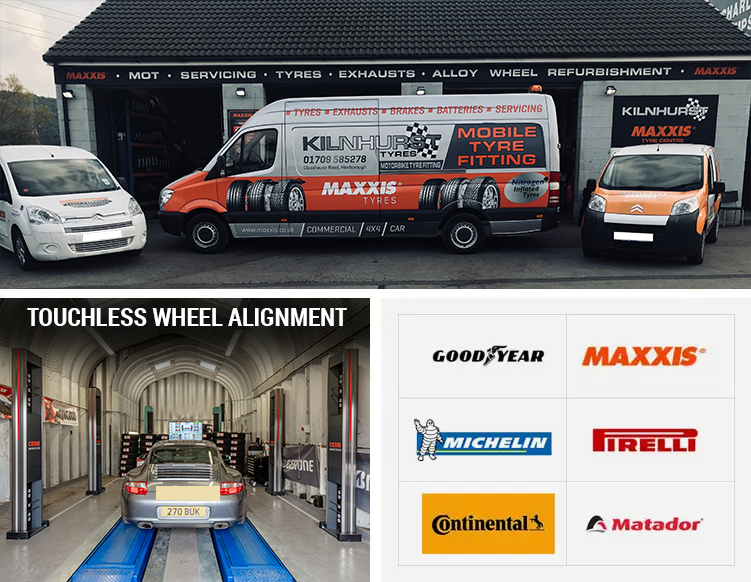 Read on to know the list of our vehicular services.
Wheel Alignment Rossington
We take pride in being the UK's first garage to employ the clampless Argos wheel alignment system by Supertracker. This technology enables us to identify the crux of the misalignment and then adjust the axle geometry with utmost precision.
So conclude your 'wheel alignment near me' searches and turn to us.
MOT
MOT is a mandatory test that assesses the environment-friendliness and roadworthiness of your car.
So if you are looking for a reliable workshop that provides MOT Rossington for Class 4 vehicles, visit our garage. While performing the test our certified tester duly follows all the legal protocols.
Our workshop is not only limited to this, we have more to offer you!
We are among the biggest retailers of automobile tyres Rossington. Our inventory has a sizeable selection of car tyres from the industry-best manufacturers. We also sell seasonal and car-specific tyre variants. Either visit us in person or browse through our online catalogue using our website's tyre finder tool.
The best part is we provide affordable services of mobile tyre fitting Rossington. You can choose this service either by calling us at 01709 585278 or purchasing tyres from us online.
Payment Assist Feature
We provide a Payment Assist option that enables you to pay the invoice amount in 4 equal monthly payments. It is available for bills totalling £250 or more.
So then hurry up and visit us today!
We are open on the following days:
Mon: Fri: 8:00 – 5:00
Sat: 8:00 – 12:00.
Opening Times
Monday

08:00 - 17:00

Tuesday

08:00 - 17:00

Wednesday

08:00 - 17:00

Thursday

08:00 - 17:00

Friday

08:00 - 17:00

Saturday

08:00 - 12:00

Sunday

closed - closed