Online Repair Quote By Make

Tyres Parkgate
If your hectic schedule stops you from going to a car workshop to acquire new car tyres, we can help.
Kilnhurst Tyres offers a wide assortment of tyres Parkgate at different price segments. To place an order, simply use the tyre finder tool on our website while seated at home or work.
While doing so, select mobile tyre fitting Parkgate, and we will have the tyres installed on your car where you want. Also, we will make sure that the used automobile tyres are properly disposed of.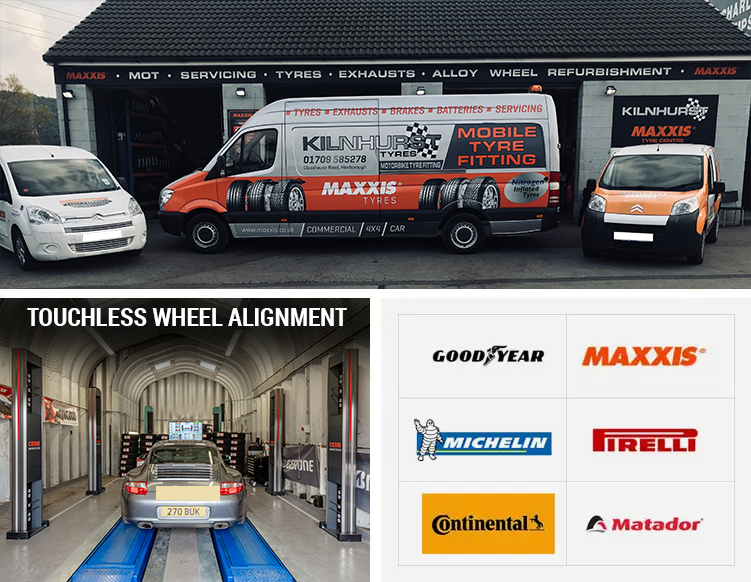 We provide tyres made by reputable brands from all around the world, like Michelin, Toyo, Pirelli, Continental, Bridgestone, Yokohama, etc.
MOT Parkgate
A valid MOT certificate is essential in order to lawfully drive a vehicle on UK roads. The DVSA has granted us permission to examine Class 4 vehicles for MOTs. During the inspection, we will closely inspect a variety of significant components of your vehicle. Based on the results of the evaluation, we will either issue a VT20 or VT30 certificate.
Our Services
Interim And Full Car Servicing Parkgate
Regular car servicing can help you avoid a number of problems that might impair the function of the vehicle. Additionally, it guarantees peak engine performance.
Our experts use cutting-edge technologies to deliver dependable services. We also have a cutting-edge facility that is fully equipped with OE-grade replacement parts in case of any irreparable damage.
Wheel Alignment Parkgate
Prior to appropriately altering the wheel axle's measurements, we locate the misalignment using the Supertracker wheel alignment technology. Properly aligned wheels will provide a smooth ride and maintain your car's fuel efficiency for an extended period of time.
Plus, we provide additional crucial services like DPF cleaning, summer and winter checks, and wheel balancing.
With our Payment Assist option, you may stop looking for "affordable vehicle services near me" and just come visit us. Our garage is located at 9A Glasshouse Rd, Rotherham, S64 5TQ which is just around three miles away from your location via the A6022 route.
Garage Operating Hours:
Mon: Fri: 8:00 – 5:00
Sat: 8:00 – 12:00
Sun: Closed
For more details on our products or services, please call us on 01709 585278.
Opening Times
Monday

08:00 - 17:00

Tuesday

08:00 - 17:00

Wednesday

08:00 - 17:00

Thursday

08:00 - 17:00

Friday

08:00 - 17:00

Saturday

08:00 - 12:00

Sunday

closed - closed