Online Repair Quote By Make

Tyres Old Edlington
Are you a resident or a commuter travelling through Old Edlington?
Kilnhurst Tyres provides excellent automobile servicing. We are located at 9A Glasshouse Road, Rotherham, S64 5TQ, which is only 5.5 miles and an 11-minute journey away via the B6094 and A630.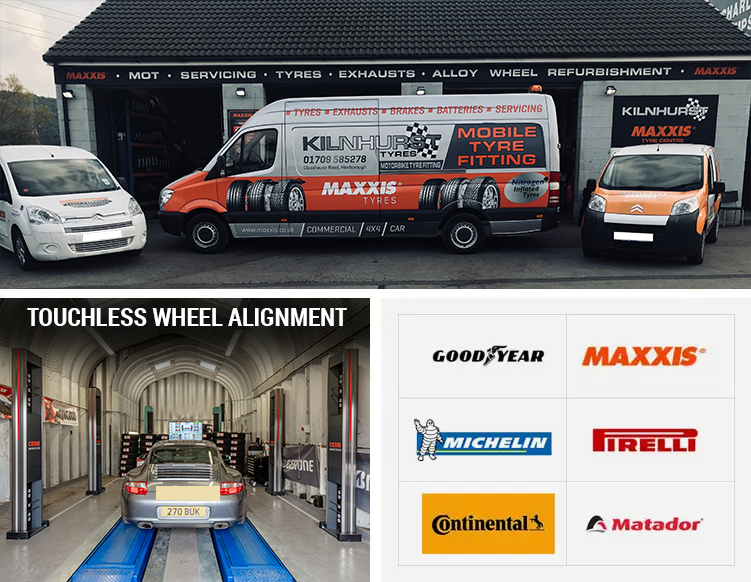 Tyres Old Edlington
We have a wide range of tyres from leading brands, including:
Event, Pirelli, Continental, Maxxis, Michelin, and Bridgestone
Furthermore, each of the aforementioned brands is available in the following variations:
Run-flat, Performance, 4x4, All-season, Winter, and Summer tyres.
You can be assured of their quality because we only sell EU-rated tyres.
Mobile Tyre Fitting Old Edlington
Schedule an appointment online by selecting the 'mobile tyre-fitting' option, and we will come to you to unmount your old tyres and replace them as fast as feasible.
Car Services
Put an end to your 'car services near me' searches.
Contact us for cost-effective services that do not sacrifice quality, such as:
Brake Services
DPF Cleaning
We exclusively employ cutting-edge equipment and technology to provide all of our services.
Wheel Alignment Old Edlington
To provide precise wheel alignment services, we employ the clampless Argos wheel alignment system by Supertracker.
So you can be confident that your vehicle is in excellent hands.
These technology enable us to pinpoint the source of the misalignment and then precisely adjust the axle geometry.
MOT Old Edlington
We perform MOT tests in compliance with DVSA standards and offer VT20 or VT30 certification based on the findings of your vehicle.
All MOT inspections on a variety of vehicle components for Class 4 automobiles are performed by our team of professional testers.
Payment Assist
Clients can use our Payment Assist feature to divide their bills into four equal monthly instalments. It is available for invoices totalling £250 or more, with a 25% down payment and the remainder paid in three instalments.
Contact Us
Call us at 01709 585278 to make an appointment.
Send us an email at enquiries@kilnhursttyres.co.uk if for any questions.
We Are Open
Monday through Friday: 8:00AM to 5:00PM
Saturday: 8:00AM to 12:00PM
Sunday: Closed
Opening Times
Monday

08:00 - 17:00

Tuesday

08:00 - 17:00

Wednesday

08:00 - 17:00

Thursday

08:00 - 17:00

Friday

08:00 - 17:00

Saturday

08:00 - 12:00

Sunday

closed - closed