Online Repair Quote By Make

Tyres New Edlington
Are you a resident of New Edlington? Is your vehicle due for an MOT check?
Drop by 9A Glasshouse Rd, Rotherham, S64 5TQ. We are only 12 minutes away, a 6.1-mile trip down the A630. We are Kilnhurst Tyres!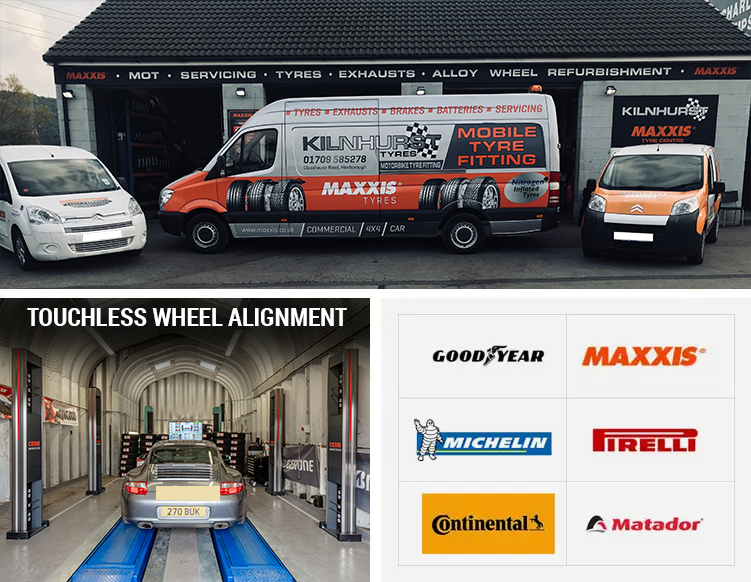 MOT New Edlington
After 3 years of registration, all vehicles in the UK must undergo yearly MOT examinations and obtain a VT20 certification to be legally driven on UK roads.
Certificates
All Class 4 vehicles receive DVSA-accredited MOT certifications from us:
VT20: The vehicle passes the MOT with minor or zero problems.
VT30: Vehicle fails MOT owing to major or dangerous problems.
Components
MOT tests are available for the following automotive parts:
Tyres and Wheels
Exhaust and Emissions
Tyres New Edlington
Explore our wide selection of EU-rated tyres, which includes:
4x4, Performance, and Run-flat tyres from well-known manufacturers, such as Jinyu, Michelin, Churchill, and Yokohama.
Summer, Winter, and All-season tyres from well-known brands like Maxxis, Event, Pirelli, Toyo, besides the ones mentioned above.
Mobile Tyre Fitting New Edlington
Choose the 'mobile tyre-fitting' option when purchasing tyres, so we can have the tyres placed on your car at a place that works for you. We also dispose of old automotive tyres correctly.
Car Servicing New Edlington
Get low-cost and high-quality vehicle services, such as:
Interim servicing is suggested every 6,000 miles driven, or twice a year.
Full servicing is suggested every 12,000 miles driven, or once a year.
In addition, we provide the following services:
Winter Servicing
Wheel Balancing
DPF Cleaning
Summer Servicing
Battery Services
Wheel Alignment New Edlington
We employ Supertracker wheel alignment equipment to pinpoint the source of the misalignment before properly reshaping the axle. Properly aligned wheels will give a smooth ride and extend the life of your vehicle.
Payment Assist
Consumers can use our Payment Assist service to divide their bills into four equal monthly instalments. It is offered for invoices totalling £250 or more, with a 25% down payment and the remainder paid in three instalments.
Reach Us
So stop searching for 'car services near me' and contact us today!
To make an appointment or for further information, please contact us at 01709 585278 or enquiries@kilnhursttyres.co.uk.
Opening Times
Monday

08:00 - 17:00

Tuesday

08:00 - 17:00

Wednesday

08:00 - 17:00

Thursday

08:00 - 17:00

Friday

08:00 - 17:00

Saturday

08:00 - 12:00

Sunday

closed - closed