Online Repair Quote By Make

Tyres Kimberworth
Kimberworth is a suburb of Rotherham, in the English county of South Yorkshire. It is situated in the Metropolitan Borough of Rotherham, approximately 4.7 miles northeast of Sheffield City Centre and 2.2 miles northwest of the town centre of Rotherham.
Searching for 'car workshops near me' in or around Kimberworth?
Look no further than Kilnhurst Tyres for top-quality car servicing at cost-effective rates. We are at 9A Glasshouse Rd, Rotherham, S64 5TQ. You can reach us within 12 minutes, a 5.7-mile drive via Kilnhurst Rd.
Mobile Tyre Fitting Kimberworth
When you order tyres from us online, you can select the 'mobile tyre-fitting' option. We will dispatch our tyre specialists to your desired place and time. We will arrive in a mobile van and install your new tyres without delay.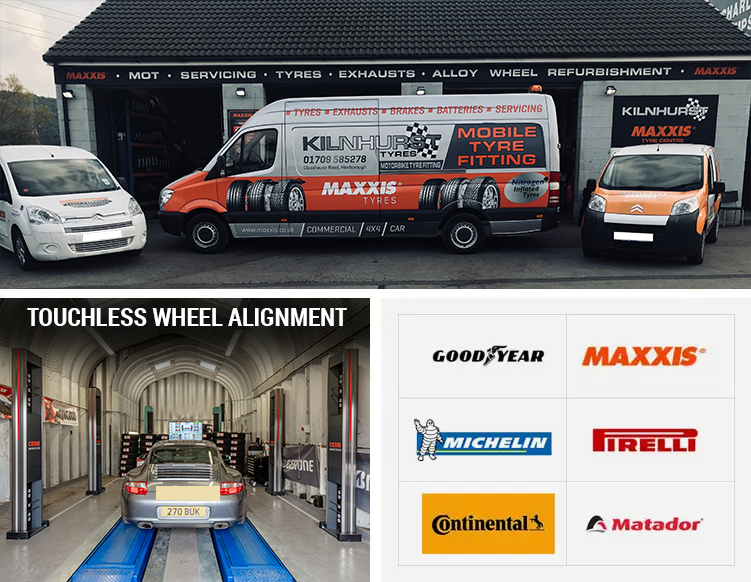 Tyres Kimberworth
We offer a diverse range of tyres from renowned manufacturers, such as Continental, Michelin, Event, Pirelli, Dunlop, and Maxxis, to name only a few.
You can find vehicle-oriented tyres, including Performance, 4x4, and Run-flats, as well as seasonal tyres, including Summer, All-Season, and Winter Tyres.
MOT Kimberworth
A vehicle must pass its MOT and get a VT20 certificate to be legally allowed to drive on UK roads.
Certifications
We issue DVSA-accredited MOT certificates, including:
VT20: All MOT tests passed with minor or no issues.
VT30: MOT test failed due to potentially dangerous problems.
Components
We test all Class 4 vehicles for the following components:
Body and Structure
Lights and Indicators
Steering and Suspension
Exhaust and Emissions
Number plates
Mirrors
Tyres
And all the other mandatory components.
Wheel Alignment Kimberworth
We inspect and diagnose wheel misalignment using the following technology:
Supertracker's Argos clampless wheel alignment
Car Servicing Kimberworth
We offer the best-in-class car services at cost-effective prices, including:
Interim servicing should be performed every 6,000 miles or every 6 months.
Full servicing should be done every 12,000 miles or annually.
We also provide the following services in addition to these:
DPF Cleaning
Wheel balancing
Summer Checks
Brake Servicing
Winter Checks
And more
Reach Us
So, you can now stop looking for 'car services near me'. Just get in touch with us.
Call us on 01709 585278, send us an email at enquiries@kilnhursttyres.co.uk or come to see us.
We are always happy to help.
Opening Times
Monday

08:00 - 17:00

Tuesday

08:00 - 17:00

Wednesday

08:00 - 17:00

Thursday

08:00 - 17:00

Friday

08:00 - 17:00

Saturday

08:00 - 12:00

Sunday

closed - closed