Online Repair Quote By Make

Tyres Hoyland
Are you looking for a reliable garage that offers best-in-class car servicing Hoyland? Turn to Kilnhurst Tyres for a sought-after solution! We are a renowned garage located at 9A Glasshouse Rd, Rotherham, S64 5TQ. You can reach us in less than 20 minutes via B6090.
We are serving the vehicular needs and tyre requirements of car owners across Hoyland for about three decades. Our experienced technicians use standard equipment to inspect vehicular issues carefully and devise a prompt solution.
Here's more on our service range!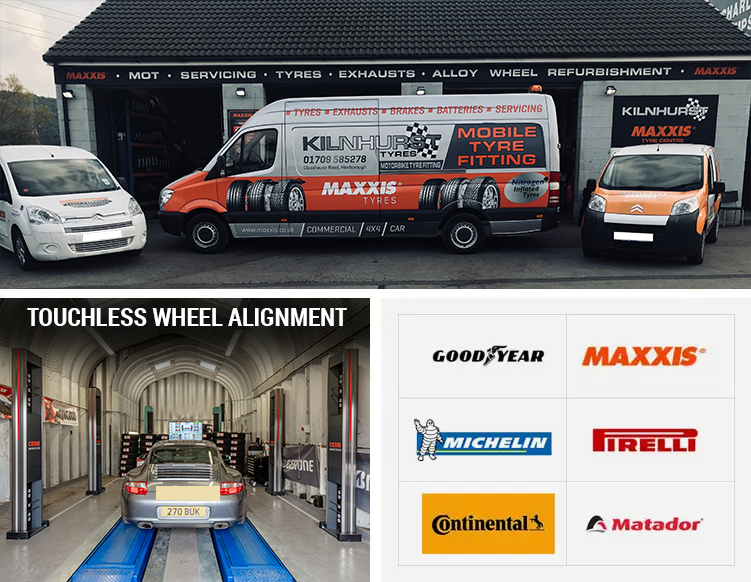 Wheel Alignment
Misaligned wheels can jeopardise your on-road safety and cause severe hazards. We offer touchless wheel alignment Hoyland to ensure your driving safety and comfort. This advanced technique is developed by Supertracker to bring transformation into the car industry. We are the first to use this clampless Argos wheel alignment technology in Hoyland.
Exhaust Services
A faulty exhaust system can adversely affect your vehicle's MOT inspection. Visit us for exhaust repair and replacement services to ensure that your car's emission level meets the standard parameters. We inspect the exhaust components like the catalytic converter, exhaust manifold, oxygen sensor, etc., and replace the faulty ones carefully.
Additional Services
Wheel Balancing
DPF Cleaning
Tyre Pressure Check, etc.
What else? Take a look at our collection of tyres Hoyland:
Our inventory is housed with an extensive range of tyres across all variants and sizes. You can find seasonal variants like summer, winter, and all-season tyres at our facility. We also house vehicle-specific variants like run-flat, 4x4, and performance tyres. Moreover, we cater to your search for premium "tyres near me" with the following collections:
Looking for cheap tyres Hoyland? You can shop from our budget segments, which include Riken, Roadstone, etc.
Note: You can book tyres online and avail mobile tyre fitting Hoyland for hassle-free tyre installation at your place.
MOT Hoyland
If you are looking for an authorised garage for your vehicle's upcoming MOT inspection, we got you covered. We are a DVSA-approved garage conducting MOT checks for Class 4 vehicles. Our technicians follow the standard guidelines while assessing your car's roadworthiness and certify it accordingly.
You can book us online or reach our facility for an appointment. Call us on 01709 585278 for quotes and queries!
Opening Times
Monday

08:00 - 17:00

Tuesday

08:00 - 17:00

Wednesday

08:00 - 17:00

Thursday

08:00 - 17:00

Friday

08:00 - 17:00

Saturday

08:00 - 12:00

Sunday

closed - closed