Online Repair Quote By Make

Tyres Hooton Levitt
We have got good news for the resident car owners of the hamlet of Hooton Levitt, Rotherham, South Yorkshire.
Kilnhurst Tyres is operational at 9A Glasshouse Rd, Rotherham, S64 5TQ. If you drive via B6093, you can reach us within 15-20 minutes. So, stop your search for "car workshops near me" and come visit us today.
We offer the following services in the area: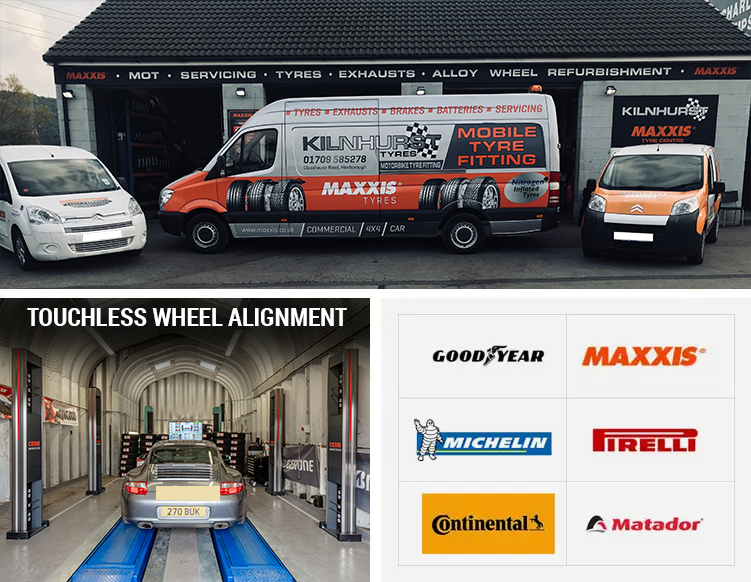 Wheel Alignment Hooton Levitt
Does your car have misaligned wheels? Our experts use the latest Argos touchless wheel aligner, which inspects the camber, toe, caster and thrust angles within 5 minutes. This helps us to reset the alignment of the car wheels back to the manufacturer's recommended angles.
We also offer other services, such as-
Winter Check
Car Air Conditioning Unit Servicing
Tyre Pressure Check
DPF Cleaning, etc.
Car Servicing Hooton Levitt
Our in-house technicians can deftly perform servicing on cars of all major makes and models.
Interim Servicing
Under this, we offer 50 checks including fuel filter replacement, engine oil check and refill, brake calliper checks, etc. This is usually done twice a year or after 6,000 miles.
Full Servicing
This comprehensive servicing includes 75 checks, such as brake fluid top-up, checking exhaust smoke, catalytic converter check and so on. You can get this after driving 12,000 miles or once a year.
Is your car's MOT due? Then come to our DVSA-authorised facility for its annual MOT Hooton Levitt.
Our experts perform MOT on Class 4 vehicles, which include-
Cars with up to 8 passenger seats
Dual purpose vehicles
The MOT check involves the inspection of several crucial components like horns, lights, suspension, brakes, etc., to determine your vehicle's roadworthiness.
VT20- This certificate indicates that your vehicle has zero to minor issues and is safe to drive on UK roads.
VT30- This indicates MOT failure, which means you have to opt for post-MOT repairs to rectify the problems and retake the test.
Products
We retail several variants of tyres Hooton Levitt like-
Performance
All-season
Run-flat
Michelin, Bridgestone, Dunlop, Pirelli, etc. are some of the brands that we stock.
If you buy tyres from us, you can also opt for mobile tyre fitting Hooton Levitt to get them installed at your preferred location.
Call 01709 585278 for more information.
Opening Times
Monday

08:00 - 17:00

Tuesday

08:00 - 17:00

Wednesday

08:00 - 17:00

Thursday

08:00 - 17:00

Friday

08:00 - 17:00

Saturday

08:00 - 12:00

Sunday

closed - closed