Online Repair Quote By Make

Tyres Handsworth
Is your busy schedule holding you back to get the new tyres installed in your car?
Call Kilnhurst Tyres on 01709 585278 and book mobile tyre fitting Handsworth. We will visit your place in a fully-equipped van and replace the old tyres with new ones. Moreover, you can book tyres online from our website at the same time to avoid any hassles.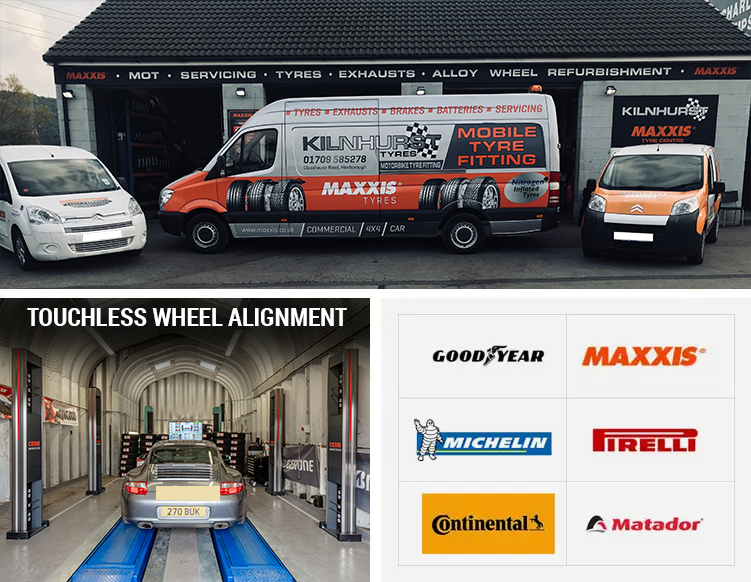 We house both premium and budget range of tyres Handsworth across all variants and sizes. Our best-selling variants include the following:
All-season Tyres
Summer Tyres
Winter Tyres
Run-flat Tyres
4x4 Tyres
Performance Tyres, etc.
Take a look at the brands available at our facility:
Michelin
Bridgestone
Dunlop
Continental
Goodyear
Nexen
Riken
Roadstone, etc.
Are you searching for an authorised "MOT centre near me"?
We are a DVSA-authorised garage that conducts MOT Handsworth for Class 4 vehicles. When you visit us, we check your vehicle's MOT history at first. Next, our technicians follow standard guidelines to inspect the components like exhaust, suspension, brakes, etc. After ensuring their functionality, we will certify the vehicle with VT20 (pass) or VT30 (fail) accordingly.
You can ply on the roads without any legal hazards if you acquire the VT20 certificate. However, if you receive a VT30 certificate, you need to opt for a post-MOT inspection within 10 working days.
What else do we offer?
We impart an expansive range of car services to meet the requirements of every vehicle segment. Moreover, we house a wide stock of OE-grade spares to replace damaged components to ensure long-lasting service life.
Some of our top-rated services are as follows:
Wheel Alignment
We offer touchless wheel alignment Handsworth to ensure accurate camber, caster, and toe positions of your car wheels. Our technicians are adept at using this advanced technology developed by Supertracker, the leading supplier of wheel alignment products.
DPF Cleaning
Accumulation of carbon and soot in the Diesel Particulate Filtrate can affect your vehicle's engine performance. Thus, it is essential to opt for a routine check-up to clean the DPF from a professional garage like ours. We use active, passive, and manual regeneration processes as per requirements.
Note: We also offer wheel balancing, tyre pressure check, exhaust services, etc.
Do you have any queries? Call us on 01709 585278!
Opening Times
Monday

08:00 - 17:00

Tuesday

08:00 - 17:00

Wednesday

08:00 - 17:00

Thursday

08:00 - 17:00

Friday

08:00 - 17:00

Saturday

08:00 - 12:00

Sunday

closed - closed