Online Repair Quote By Make

Tyres Chapeltown
Do you often commute to and from the suburb of Chapeltown, for work or other engagements? If yes then knowing about Kilnhurst Tyres will come in handy in case of any vehicle emergencies in the future.
We are a dedicated car workshop with 30 years of business experience. Our team of expert technicians are trained to deliver excellent vehicle-related services to you at affordable rates.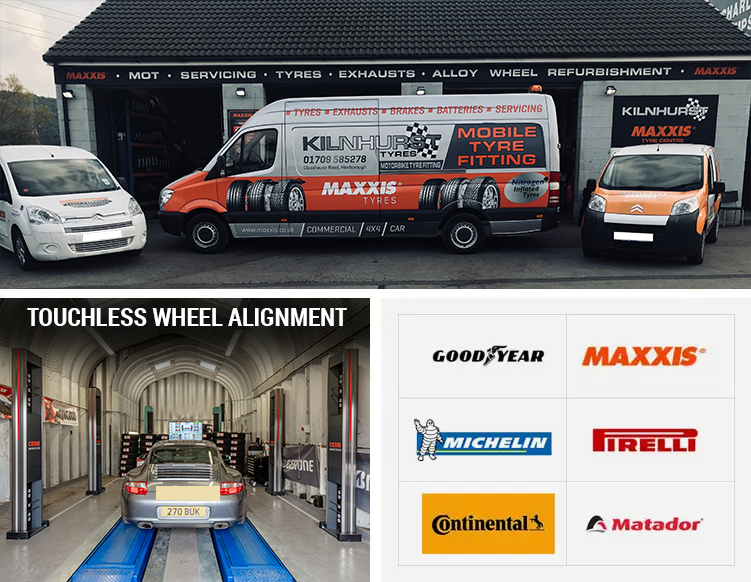 What We Sell?
Are you searching for "tyres near me"? Look no further since we house an extensive collection of tyres Chapeltown. From summer to winter, 4X4 to run-flats, we stock all the popular variants. Moreover, we sell all-season and performance tyres if you are looking for something heavy-duty.
Here are some of the popular tyre brands we retail from-
Continental
Michelin and many more.
Want to buy tyres but too busy to visit the garage for installation? Do not fret and opt for our mobile tyre fitting Chapeltown.
Select the mobile fitting option when purchasing tyres from us and choose your preferred date and time. Our technicians will reach you to install new tyres and also dispose of the old ones.
Car Servicing Chapeltown
Servicing at regular intervals not only enhances your vehicle's performance but also helps avoid major damages in the future. At our garage, we perform interim and full servicing for your vehicle.
Interim- every 6,000 miles or after 6 months
Full- Once a year or after 12,000 miles
Other Services
Our experts use the Argos touchless wheel aligner for detecting issues related to your car's wheel alignment Chapeltown. This technology inspects the toe, caster, camber and thrust to give precise results within moments.
Moreover, weoffer-
Battery Replacement
Exhaust Service
DVSA-Authorised MOT Centre
Your vehicle needs annual MOT checks after completing 3 years of registration. At our facility, we perform MOT Chapeltown on all Class 4 vehicles.
Our technicians check the following components of a vehicle to determine its roadworthiness-
Brakes
Exhaust and emissions
Upon successful MOT we issue a VT20 certificate.
We are open-
Mon: Fri: 8:00 – 5:00
Sat: 8:00 – 12:00
Call us on 01709 585278, or email us at enquiries@kilnhursttyres.co.uk for more information.
Opening Times
Monday

08:00 - 17:00

Tuesday

08:00 - 17:00

Wednesday

08:00 - 17:00

Thursday

08:00 - 17:00

Friday

08:00 - 17:00

Saturday

08:00 - 12:00

Sunday

closed - closed