Online Repair Quote By Make

Tyres Carr
Carr is a hamlet in England, in the Rotherham district. It is located south of Rotherham, South Yorkshire. Vehicle owners in this area searching for "car servicing near me" can choose Kilnhurst Tyres for their vehicle issues.
Take a look at what we have to offer.
Car Servicing Carr
Servicing your vehicle at regular intervals can save you from spending money on major repairs and replacements in the future and also enhance performance. Our experts can deftly perform-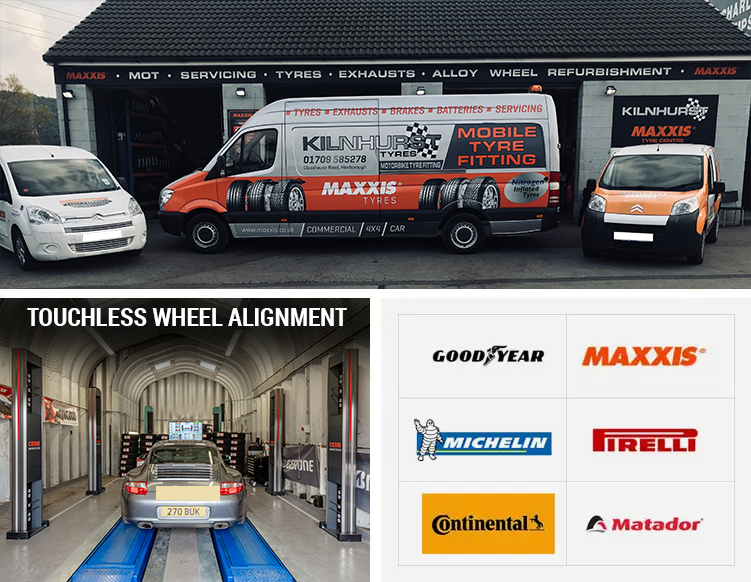 Interim servicing- This involves 50 checks. Get this done every 6 months or after 6,000 miles.
Full servicing- This is done every 12,000 miles or once a year. It has 75 checks including the ones in interim servicing.
Additionally, we offer services such as-
Tyre Pressure Check
Car Battery Replacement
Wheel Alignment
DPF Cleaning, etc.
Tyres Carr
Whether you are looking for premium, mid-range or budget tyres for your vehicle, we have it all in our collection. We also sell vehicle and season-specific tyres specially formulated for different scenarios.
Seasonal tyres- winter, summer, all-season
Vehicle-specific tyres- 4X4, performance, run-flat
You will also get multiple options for brands, including Michelin, Continental, Goodyear, Hankook, Maxxis, etc.
Mobile Tyre Fitting Carr
Do you want to buy new tyres for your vehicle but do not have time to visit a garage for a fitting? Then choose our mobile fitting option when you are purchasing tyres from us. You can also select your preferred date and time according to which our fitters will reach you for tyre installation.
MOT Checks
Did you know that we are a DVSA-authorised service centre for MOT testing? At our facility, we conduct MOT Carr for Class 4 vehicles. We assess the following components-
VT20- We issue this MOT pass certificate if your vehicle has zero or minor issues.
VT30- If your vehicle has major or dangerous issues, we issue this certificate. This means you have to get it repaired and retake the MOT.
Our Address
We are located at 9A Glasshouse Rd, Rotherham, S64 5TQ. Take the B6093 to reach us within 20 minutes.
For further information, please call us on 01709 585278.
Opening Times
Monday

08:00 - 17:00

Tuesday

08:00 - 17:00

Wednesday

08:00 - 17:00

Thursday

08:00 - 17:00

Friday

08:00 - 17:00

Saturday

08:00 - 12:00

Sunday

closed - closed