Online Repair Quote By Make

Tyres Carbrook
Are you a resident of Carbrook and searching for a reliable service centre for your car? Then you should know about Kilnhurst tyres. We are located at 9A Glasshouse Rd, Rotherham, S64 5TQ.
It is only a mere 8.6 miles from your location via the A6109. Our 30 years of experience make us one of the most trusted and reliable product and service providers in this field.
What We Offer
At our garage, we conduct wheel alignment Carbrook. We use the latest Argos touchless wheel aligner for this purpose, which gives precise results at a fraction of the time taken during the traditional method. After checking the toe, caster, camber and thrust angles within 5 minutes, our experts reset the wheel angles to match the OEM adjustments.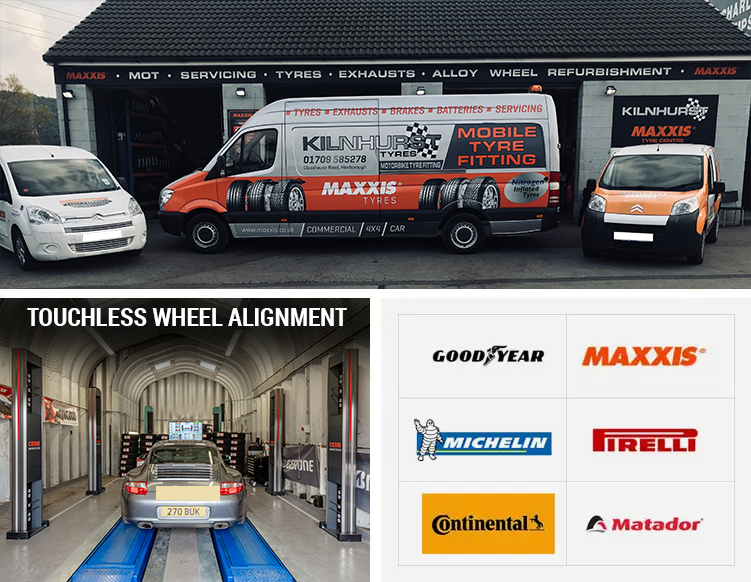 In addition, we offer DPF cleaning Carbrook, wheel balancing, tyre pressure checks, etc.
Car Servicing Carbrook
Did you know that regular servicing can save your vehicle from major damages in the future and also enhances its performance? We offer-
Interim Servicing
This involves 50 different checks including fuel filter replacement, brake callipers check, engine oil check etc. You can get this after every 6,000 miles.
Full Servicing
In this servicing, we offer 75 inspections that include interim checks. Additionally, it involves brake fluid top-up, checking catalytic converter, brake pad inspection and many more. Opt for this once a year or every 12,000 miles.
Professional servicing will also increase your vehicle's chances of passing the MOT Carbrook at one go, which we conduct at our DVSA-authorised facility. If you have a Class 4 vehicle, feel free to visit us for its annual MOT. If your vehicle passes the test, we issue a VT20 certificate, which is valid for a year.
We assess the following components during the test-
So, stop your "MOT centre near me" searches and visit us.
Tyres Carbrook
The tyre variants we retail are- summer, winter, 4X4, performance, run-flat, and all-season.
Continental, Roadstone, Pirelli, and Maxxis are some of our top-selling brands.
After buying tyres from us, opt for mobile tyre fitting Carbrook to get hassle-free tyre installation at your chosen location. You can use the tyre finder tool on our website for this purpose.
Call 01709 585278 for more information.
Opening Times
Monday

08:00 - 17:00

Tuesday

08:00 - 17:00

Wednesday

08:00 - 17:00

Thursday

08:00 - 17:00

Friday

08:00 - 17:00

Saturday

08:00 - 12:00

Sunday

closed - closed