Online Repair Quote By Make

Tyres Brodsworth
Now, local car owners can come to Kilnhurst Tyres to address their vehicle-related issues and obtain professional support at a fair price. With years of practical experience in the automobile sector, our team of experts provides the most accurate services with the shortest wait times.
Wheel Alignment Brodsworth
To fix issues with your car's axle geometry, you can opt for our touchless wheel alignment service. Simply manoeuvre your vehicle cautiously in between the Agros columns.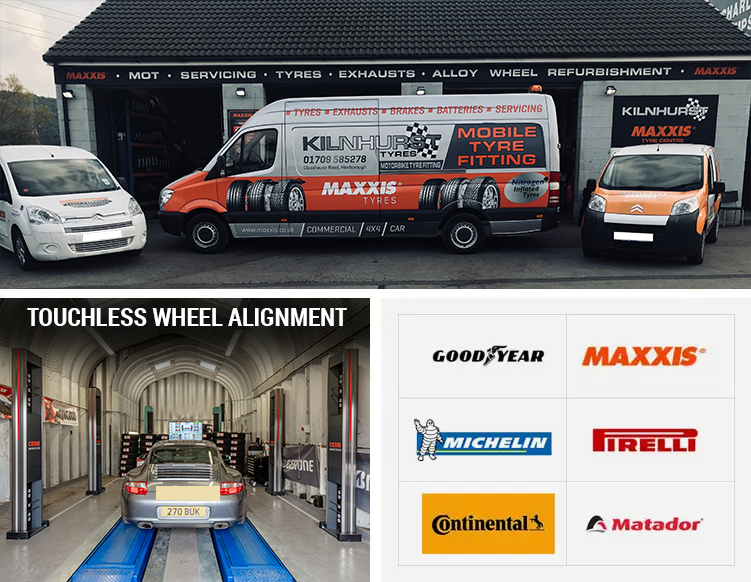 We can locate the misalignment using the sensors' 3D model of the wheel angles. These angles will then be realigned to reflect their original measurements.
MOT Brodsworth
If your Class 4 vehicle requires an MOT, you can come down to us. The DVSA has permitted us to conduct MOT inspections. While we assess the components, we will check if your vehicle parts are in line with the law. We will then give an MOT certification based on the test results.
Car Servicing Brodsworth
Your car will maintain its top condition and have a higher resale value with regular maintenance. We employ cutting-edge technology and offer the service packages described below to guarantee the most accurate results:
Interim Servicing
Full Servicing
Moreover, we offer DPF Cleaning services at reasonable costs.
Despite this, we still have more to provide for our clients!
We are one of the top retailers of car tyres Brodsworth. Our product selection includes tyres from reputable manufacturers, such as:
To buy our products from any place, use the tyre finder tool on our website and choose our mobile tyre fitting Brodsworth at checkout. At your selected date and time, we will show up at your location to swap the old tyres with new ones.
We now provide a Payment Assist option that lets you pay the invoice in four equal monthly instalments. We are the perfect solution for all "cheap vehicle services near me" searches as a result.
Come down to us at 9A Glasshouse Rd, Rotherham, S64 5TQ. You can also speak with our experts by calling on 01709 585278.
Opening Times
Monday

08:00 - 17:00

Tuesday

08:00 - 17:00

Wednesday

08:00 - 17:00

Thursday

08:00 - 17:00

Friday

08:00 - 17:00

Saturday

08:00 - 12:00

Sunday

closed - closed